Testimonials
What CompressorPros Customers are Saying
At CompressorPros we take great pride in giving top of the line customer service. Whether you e-mail, call or use our chat, we will do our absolute best to get you the answers you need. If we cannot answer the question on the spot, we will get back to you as quickly as possible.
Take a quick read through on what some of our customers have said about CompressorPros and the quality products we offer.
We want to earn your business!
___________________________________________________________

RP Signs chose C-Aire Model A075V080-3230FP because of the outstanding performance, features and low noise.
Gary F. wrote:
Had a great experience buying our new C-Aire compressor from CompressorPros. Lindsay was extremely helpful answering our questions in the beginning and helping us find the unit that was right for our needs. We always received quick responses to our questions and plenty of updates on shipping once the order was placed.
Shipping was fast (and free) and we received the compressor very quickly. The compressor itself has been running great. Very quiet and gives us all the air we need and then some. Will definitely purchase from CompressorPros again!
___________________________________________________________
Stephen A. in TN: QuickJack BL-7000SLX
So, for an update here, I got my QuickJack BL-7000SLX up and running today!
I had the missing fittings in hand on Wednesday thanks to Compressor Pros, and also was told that I will be receiving new serial number label with the correct load rating. I want to give a big shout out to Ray from Compressor Pros, as he has been a pleasure to deal with from the beginning, even when I was being quite wishy washy about what I actually wanted. He has communicated well, and has certainly bent over backwards to quickly rectify any issues, and also to be sure to get my unit sent from this first shipment.
I set up the unit and bled the cylinders, etc per the manual and cycled the unit up and down several times. Then came the big test.
I decided to take advantage of my 12V unit, and I moved it out into my driveway to lift my car. My driveway is concrete and quite level, so I was good to go there. I set up the unit, and got the lifting blocks lined up. I hooked the power unit up to my lawn tractor, since my battery in my BMW is in the trunk, and has a water/alcohol injection reservoir mounted on top of it, so it is somewhat of a PITA to access.
I had the unit set up, and the car off the ground in under 5 minutes.
To say I am thrilled with the capability this thing provides is an understatement. I am quite certain that I could be car off the ground on the locks to start working in under 5 minutes, and the same on the back end. No way I could get the car up on jackstands on all-four corners, anywhere near this high, in this amount of time, and probably not safely in any case.
They must have also upgraded the hydraulic quick connect fittings based on some early model comments, as these things are high quality, easy to connect and disconnect (although require some force), and break cleanly. I have not spilled a drop in several connect/disconnect cycles. Based on some of the early reports I was ready with rolls of paper towels, kitty litter, and the emergency speed dial number of the EPA...
The only "issues" I can comment on, are that the power unit has the motor bolted thru with two bolts. There are some holes on the unit which look to be probably for some "feet", but my unit has no feet, so it sits on those bolts and teeter-totters a bit. Also, the short hoses for the cylinders are on the same end as the wheels. The hoses are routed under the unit, so when you go to move it on the wheels, the hoses would drag. I end up threading the hoses back up to the top when I go to move it. A bit of a pain, and I am worried a bit about stressing the hoses when I do this, so I need to take a closer look. Also, I plan to probably do a bit of work on the wiring of the power unit to add some wrap and strain relief to the wiring. In addition, I will probably permanently attach a set of 7ga or bigger cables directly with some big alligator clips so I don't have to get out the jumper cables.
I am a happy camper!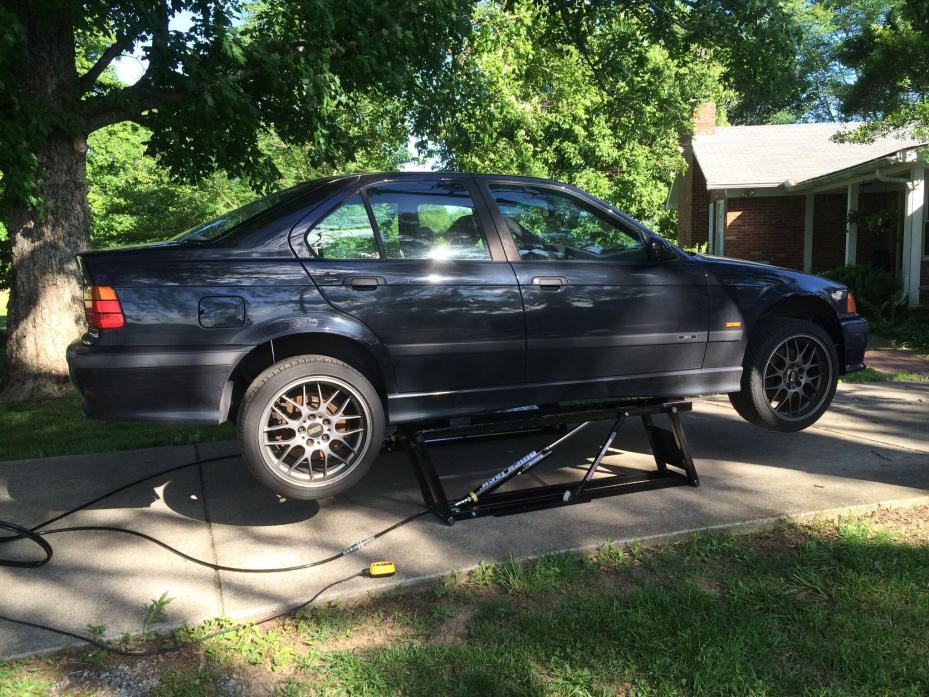 ___________________________________________________________
John B in MO: BelAire 318VLE
I'm still working on the installation of the BelAire compressor I bought from CompressorPros due to it going in a new garage. But I can say that they did a great in processing my purchase and readily answered every concern or question I had. I'd recommend them whole heartily.
____________________
Kyle J:
Hi, Just a quick note to express my thanks to Compressor Pros for their great customer service and support. I own a small spray foam company in upstate NY. I purchase parts for my air compressor routine maintenance through them. They always provide excellent advise and customer support. Thanks, Kyle
___________________________________________________________
Steve C: (Posted on Garage Journal and Used with Permission) Chicago Pneumatic RCP-7581V and CPXHT25, plus Cyclone Model 4040
Long time lurker, first time poster and first time shop owner here. Thought I'd post up a couple of pictures of our shop here in Virginia Beach and send a big ol shout out to Ray at CompressorPros who helped me get a couple of compressors, driers and a media blaster out here. Got some great prices, quick delivery and he was real quick to get back to me whenever I had questions - 10 of 10 would do business with again.

___________________________________________________________
A Parts Order going to Bermuda... 1/2017
Hi Ray,
Many thanks for the e-mail and the heads up on the shopping cart quantity mistake. Now I know why the shipping was coming up at $50; it was for 2 flywheels! I opted out when the $50 shipping charge came up instead of $25 and never realized there were two flywheels in the shopping cart. My apologies.
I have just gone back online, corrected the quantity and completed the order. I have to comment on your online checkout process. It is by far, one of the BEST I have ever used to order and pay for an item, especially being an International customer. Kudos to whoever designed it. Award winning.
Many thanks for your help, once again. I look forward to receiving a copy of the invoice once the flywheel has shipped and the new flywheel. And a quiet compressor!
Best regards,
Victor
Good morning. Just wanted to thank you for getting my order out promptly. Received the flywheel Saturday morning, fitted it and the compressor purrs like a kitten! Received great service from CompressorPros and now have a great product. I got sandblasting right away on my restoration project, which really made my weekend. Thanks again!
Best regards,
Victor